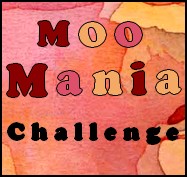 A Moo is a little card sized 2.8 x 7 centimeters, or approximately 1.1 x 2.8 inches.
Bei der neuen Herausforderung auf MOO-MANIA heisst es diesmal Schlüssel/Schloss
Ein Moo ist ein kleines Format 2,8 x 7 cm.
FUN WITH ATCS Challenge Blog will
/ wants ATCs
mit
/with
etwas Neuem/
something NEW

So hab ich mir gedacht ich kombiniere mal die beiden Wünsche und hab eine Karte gemacht-
I decided to combine the two Challenges with a card.
New is a part of a stamp from my new Stampers Anonymous plate/ Neu ist hier ein Teil eines Stempelchens von meiner neuen Stempelplatte von Stampers Anonymous-
neu bei mir dank meines Gutschein Coupon-Gewinnes bei /
Danke an Sulie und ihr Team!