I glued

little eggshell pieces

on cardboard

and

colored them with

acrylic paints

and markers

and

then

stamped on it and colored the motifs in with markers.

I

have to try the

technique

again

with

white

eggshells

and

alcohol

ink

, or markers.. I think that will also be a good effect and maybe there is more to see from the eggshell pieces in the surface than - and that is what I
want to achieve.
My pendant is made in the MOO-SIZE - you now - my new
obsession
A Moo is sized 2.8 x 7 centimeters, or approximately 1.1 x 2.8 inches.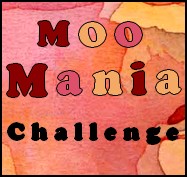 Ich habe braune Eierschalenstückchen auf Karton geklebt und mit Acrylfarbe und Filzstiften auf Alkoholbasis eingefärbt. Danach hab ich das Moo-formatige Anhängerchen noch bestempelt und die Motive mit Filzstiften und Acrylfarben coloriert. Das nächste mal möchte ich weisse Eierschalen und Alkoholtinten ausprobieren, denn ich denke da kann man den Eierschaleneffekt besser zur Geltung bringen. Ein Moo ist ein kleines Format
2,8 x 7 cm.