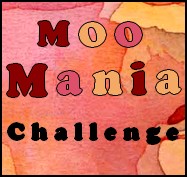 bei Moo Mania will man drei Moo(s) auf einem Projekt oder drei einzelne Moo(s) sehen.
Ich hab ein bisschen nachgegrübelt - wenn man die Maße eines Moo(s)
verdreifacht, so erhält man exakt diese Langkarte (8,4 x 21 cm).
Over on MOO-MANIA they want us to show three Moo(s) on a project or simple three single Moo(s).
If you
multiply the MOO- measurements by three you get exactly this longcard-format (3,3 x7,4 inch).