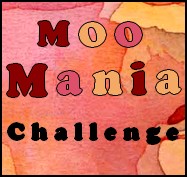 The new theme over on MOO -MANIA
FEATHERS
You are all invited to take part!
A Moo is a little card sized 2.8 x 7 centimeters, or approximately 1.1 x 2.8 inches.
Das neue MOO -MANIA Thema heisst Federn!
Bitte macht wieder zahlreich mit!
Ein Moo ist ein kleines Format
2,8 x 7 cm.
Make this little nest embellishment with Lindsay´s free turorial !
Lindsay is my favourite frugal crafter!
Thank you Lindsay!
click here:
simonsaysstampschallenge-easter-spring
it´s the time of the week when Julia from WOYWW gets us
all together to have a look at desks from all over the world..
this week I want to show you
just my new project...
there is a big spread page covered with old bookpages-
and so the idea came to me to guide you to this helpful video this week how to make very cheap
Mod Podge or Gelmedium .
I make it with a very cheap white glue from a "One Euro Store"(the 100g bottle really is to get there for Euro 1,-)
and yes and yeah- this is a fabulous glue for me! Maybe this DIY version can give a yellow glow after a couple of years and doesn't hold as long as the real podge - but I don´t care about this....
I am not the great artist and my pages are not built for eternity...
and my next experiment will be this all at home made Mod Podge
http://365daysofdiy.blogspot.co.at/2012/01/homemade-modge-podge.html