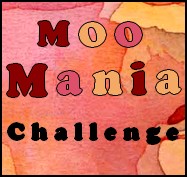 The new theme over on MOO -MANIA
FEATHERS
You are all invited to take part!
A Moo is a little card sized 2.8 x 7 centimeters, or approximately 1.1 x 2.8 inches.
Das neue MOO -MANIA Thema heisst Federn!
Bitte macht wieder zahlreich mit!
Ein Moo ist ein kleines Format
2,8 x 7 cm.
I love to incorporate Moo(s) to other projects as you know-
so I did here again...
my special tip for you:
If your muse is far away, create a little Moo.
It may tell you the way to a fantastic other piece you can create!
Ich bin inzwischen ein Fan davon meine Moo(s) in verschiedenen Werken zu verwenden
so geschah es auch hier .
mein persönlicher Tip:
Wenn Euch mal die Muse im Stich lässt.
werkelt ein kleines Moo und das sagt Euch dann genau,
was es werden will!
Versucht es einmal!
enter it also to:
http://dreamvalleychallenges.blogspot.co.uk/
http://stampinfortheweekend.blogspot.co.uk/
panpasteluk.blogspot.co.uk