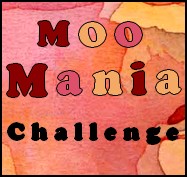 Our new theme is
STEAMPUNK!
I must admit that Steampunk Art is not my cup of tea
and as our DT have choosen that special theme for us
I was a bit afraid of this - but now I am happy
with my little Steampunk MOO Cuckoo Clock
Bitte macht wieder so zahlreich mit bei unserem neuen Thema:
STEAMPUNK
Ich hatte echt die Hosen voll vor der Umsetzung des Steampunk-Themas
als unsere Designerinnen das Thema vorschlugen. Aber meine kleine MOO- Steampunk- angehauchte Kuckucksuhr gefällt mir nun doch ganz gut!
auch gedacht für / also for