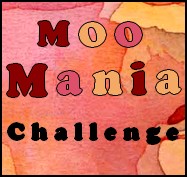 The new theme over on MOO -MANIA
FEATHERS
You are all invited to take part!
A Moo is a little card sized 2.8 x 7 centimeters, or approximately 1.1 x 2.8 inches.
Das neue MOO -MANIA Thema heisst Federn!
Bitte macht wieder zahlreich mit!
Ein Moo ist ein kleines Format
2,8 x 7 cm.
I love to incorporate Moo(s) to other projects as you know-
so I did here again...
my special tip for you:
If your muse is far away, create a little Moo.
It may tell you the way to a fantastic other piece you can create!
Ich bin inzwischen ein Fan davon meine Moo(s) in verschiedenen Werken zu verwenden
so geschah es auch hier .
mein persönlicher Tip:
Wenn Euch mal die Muse im Stich lässt.
werkelt ein kleines Moo und das sagt Euch dann genau,
was es werden will!
Versucht es einmal!
this is my MOO and it wanted to become a card!
Creavil / Easter
Crazy Amigos - Eggs
PPUK-Photo Inspiration
and for PPF this week I want to show this work in progress
- I tried out some new texture-techniques on an old canvas but don´t know how to go on with it .
diesen unfertigen Keilrahmen zeige ich zur
PPF
diese Woche, keine Ahnung wie ich hier weiter verfahre...er wird mir schon flüstern was drauf kommen soll... kommt Zeit kommt Rat! Vollendet ist er in meinen Augen irgendwie gar nicht! ABER ... es fehlt der Plan!