As I visited
Alison´s blog
this morning I was really fascinated by her assemblage ATC and decided to join the new theme over on
FWATCs
. I started by taking an older piece of mine,
what was a cerealbox -canvas which didn´t came out as the famous ARTPIECE in my mind(
klick here
) and took my scissors to transform it into a
MOO
- please notice: Today is the last chance to take part on our current feather(s) theme over on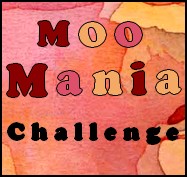 please check out all the fantastic entries the
MOO Maniacs
made for this topic yet!
Tomorrow there will be a new fantastic theme there!!!
it took me just a few minutes to make this little "open it´s door" ATC .
Once again my tip.. start with a MOO and it will guide you to what it should become!
This paritcular "Moo" told me it would be the perfect closure for my door ATC.
Heute Morgen hab ich den Blog von Alison Bomber besucht und war echt begeistert von ihrem großartigen Türen ATC ! Ich hab sofort beschlossen auch wieder bei der FWATCs Challenge mitzumachen . Ich hab ein älteres, meiner Meinung nach nicht so tolles Werk von mir ( einen Verpackungskartonkeilrahmen - klick hier) zerschnippelt und dann ein Moo gewerkelt, dass mir
den Weg zu einem Türen ATC quasi schon vorgegeben hat. Wieder mal mein kleiner Tipp für Euch.
Startet mit einem MOO und ihr werdet Euch wundern wie es Euch in einen Flow bringt und Ihr viel mehr kreiert, als Ihr dachtet! Heute ( 99. Tag des Jahres)ist übrigens der allerletzte Tag für die FEDER - HERAUSFORDERUNG am
Morgen wartet dann schon wieder ein neues Thema für Euch dort!
Schaut Euch bitte die vielen genialen MOO(s) zum Thema Federn an.
Ich bin überzeugt es ist Inspiration für Euch ohne Ende!