My entry for the new MOO MANIA CHALLENGE is a Moo on a tag for our new theme: *l*a*n*d*s*c*a*p*e*.
I hope you like it and I really hope you join us over on MOO MANIA/ Das ist mein Beitrag zur neuen Herausforderung zur MOO MANIA CHALLENGE - es ist ein MOO auf einem Tag zum neuen Thema "Landschaft". I hoffe es gefällt Euch und was ich noch mehr hoffe, dass Ihr wieder so zahlreich bei der Challenge mitmacht!
A Moo is a little card sized 2.8 x 7 centimeters, or approximately 1.1 x 2.8 inches.
Ein Moo ist ein kleines Format:

2,8 x 7 cm.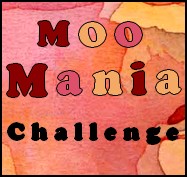 For the new fab challenge over on
Für die tolle neue Challenge
hab ich eine Art Journal Seite gefriemelt- wie gewünscht Holz mit dazu genommen... lol ..das ist ein Eisstecker aus Holz hier, den ich zerschnippelt als Zweig arrangiert hab! Uff!
This is my entry for this challenge and as Conny wanted to see wood on the piece too, I took a wooden icecreamstick and shredded it for building the branches. The quote in german language
approximately means:
Who does not feel too much
occasionally

, feels not enough all the time. ~ Jean Paul