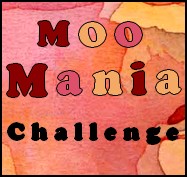 We have a new theme over on MOO MANIA CHALLENGE BLOG! It runs until July 31th and is :
Ein neues MOO MANIA Thema ist online . Es läuft bis zum 31. Juli und es heißt:
I used an old calenderpage with a print on it and cut it into a 3 D tag with a Moo on it.
No stamps.. just scissors and dimensional glue pads this time.
Ich hab hier mal einen Kalenderdruck zerschnippelt und ein Tag mit 3 D Elementen und einem Moo drauf gewerkelt..ganz ohne Stempel ..nur Schere und Abstandsklebepads sind hier genutzt!