I made a tag with a Moo on it!
You know - a MOO is a little format:
sized 2.8 x 7 centimeters, or approximately 1.1 x 2.8 inches.
Over on MOO MANIA CHALLENGE there is waiting a new theme for you! It is
........
for the next two weeks - until August 13th.
......
SONNE
es läuft bis 13. August!
heisst das neue Thema auf MOO-MANIA und wartet darauf von Euch umgesetzt zu werden!
hop over to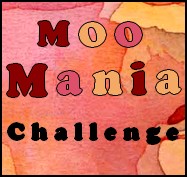 to join in and see the great DT- work there
schaut vorbei, macht mit und lasst Euch vom Designteam inspirieren!
Ich hab eben beschlossen dieses Tag auch zur neuen Challenge
(decided to link to the below challenge)
zu linken - schaut doch auch dort vorbei