The new theme over on / das neue Thema bei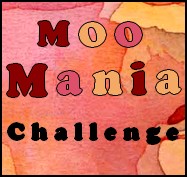 join in and have fun!
always with the tinny format in mind:
MACHT mit und habt Spaß mit dem Miniformat:
2.8 x 7 cm, or approximately 1.1 x 2.8 inches.
I made above Moo and made the tag with it - shown below.
Obiges Moo hab ich auf dem unten gezeigten Tag verarbeitet.