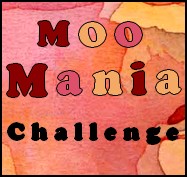 There is a new theme over on MOO-MANIA-CHALLENGE
Ein neues Thema bei MOO-MANIA
SUN -

theme runs until August 13th
/Sonne
es läuft bis 13. August!
A Moo is a little card sized 2.8 x 7 centimeters, or approximately 1.1 x 2.8 inches.
Macht wieder so zahlreich mit!
Please join in the fun !
I made this Layout page with 3 Moos to the theme.
Ich habe eine Seite gestaltet mit 3 "Sonnen" Moos darauf.
Ein Moo ist ein kleines Format


2,8 x 7 cm.