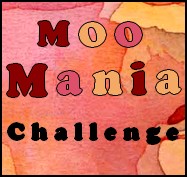 with faux stitching on the little MOO and Polka Dots on the tag.
You know a MOO is a tinny format -
for more information about MOO art visit MOOMANIA
For our

Less is More

theme over on Art Journal Journey I made another page ..just playing with my watercolors and some stamps - for me this is less less less on a page.. for other people this may be more than enough.... I link it to the gorgeous weekly event PPF this week too.
Both pieces I made during the last few days suitable for different challenges out there. I am very busy with our renovation and have not enough time for creating and blogging - but against all this odds I need and take some time every day for my creating and my blogging - and that's that! I need this to stay sane and healthy!
Ich bin etwas im Stress mit unserer Renovierung , trotzdem nehme ich mir jeden Tag etwas Zeit für mein Hobby und Blogbesuche .. das muss sein..ich brauch das zum Gesundbleiben ...basta!
Das Tag ganz oben ist für
MOO MANIA
und
Tagalong
gedacht, die Art Journal Seite linke ich zu
Art-Journal- Journey
und
PPF
.