I always allow me to get lost in the process of creating... just playing around with colors and stamps is the best way to mix and match techniques and mediums. AND you can achieve countless variations and looks. I enjoy learning about mediums and how colors and mediums work together by just playing with them. So I can see how things work and how I can make them work for me.
Today I want to show you how I often start my projects - nothing special in mind - just creating an Art Journal page - but if this page don't turn out good enough for me to bind it later to my spiral bound DIY Journal - I look at the piece and decide to just use the parts that really speak to me.
So it was here: I didn't like this page -
but I really liked the right part - so I decided to make a Tag out of this part
and this tag was made :
can you see the MOO ?
it's meant for the
hands - theme at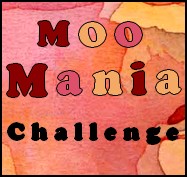 Ich

erlaube mir einfach nur mit Farben und Stempeln herumzuspielen,

im

Prozess

verloren zu gehen

...

für mich ist das

der beste Weg um mehr über Techniken und Medien zu lernen. Techniken kombinieren und dabei eröffnen sich

unzählige

Variationen und

Looks.

Ich genieße

einfach nur was dabei rauskommt wenn

Farben und

Medien

zusammenarbeiten

.

So kann ich sehen

, wie die Dinge

funktionieren und wie

ich sie

für mich hinkünftig vielleicht einsetzen könnte.





Heute wollte ich

mal zeigen, wie

ich

meine Projekte

ganz

oft

beginne

-

nichts

Besonderes im Sinn

-

nur

vielleicht , wenn's hochkommt könnte eine

Art Journal

Seite enstehen, die ich später mit der "Bind it All" (Bindemaschine) zu einem Journal binde -

wird es nichts - auch kein Malheur - ich guck mir das in Ruhe an und manchmal sind Teile davon gut geworden und diese

Teile verwerte ich einfach weiter.
So war es auch

hier

: Mir gefiel der rechte Teil der Seite recht gut und dann hab ich damit das Tag oben gemacht - und da ich auch ein Moo raufgepackt habe, ist es letzlich nun ein netter neuer Beitrag für die MOO MANIA CHALLENGE