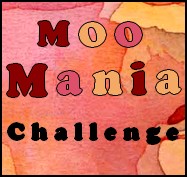 I had a little problem with the theme since I have no single rubberstamp matching this theme...uuups.
I found a catalogue from a hardware store amongst my advertising mail and thought that could be my rescue.
So I glued some of this junkmail - paper as a background - layered one coat of Acrylic Ground for Pastels ( by Golden) - I think clear gesso would make the same effect - over it and so I was able to wipe hard pastel crayons to color and customize my background. The two little MOOs are made to open like a door and to hide a saying I created by using different parts of different rubberstamp -sentiments .
I gave then after I sprayed fixative ( that is was the pastel crayons need to stay permanent) a layer of white schoolglue over the whole piece and dried with my heat gun... this gave a great shiny finish to all and workes a bit like crackle medium you can't see the crackled texture very well, but on the bottom of the tag you will notice the bubbles - that is the bonus of using a heat gun - this cool bubble effect. The whole time I made this tag I thought of my favourite home improver, my dear husband - so this tag is just for him. I scribbled a not clearly visible love letter for him on the little MOO- construction with white gelpen and set a few highlights with this pen and white crayon too. I know my darling will be happy about this little gift from me. He is one of my biggest fans. Every time I show a new art piece of mine to him I hear: "The best you ever made" lol!
Ich hatte ein kleines Problem mit dem neuen MOO MANIA - WERKZEUG -Thema, da ich keinen einzigen passenden Stempel für dieses Thema habe .
Ein Katalog aus dem Baumarkt unter meinen Werbesendungen war die Rettung.
Ich klebte Teile des Prospekts als Hintergrund - überzog mit einer Schicht Pastell-Grundierung ( von Golden ) - ich denke, Klares Gesso würde den gleichen Effekt erzielen - und konnte so mit Pastellkreiden Farbe aufbringen
.
Die beiden kleinen MOOs kann man wie eine Tür öffnen und dahinter verbirgt sich ein Spruch, den ich aus verschiedenen Spruchstempeln kreiert habe.
Nach dem Fixieren der Kreiden mit Fixativ ( das benötigen Pastellkreiden, damit sie nicht verwischen - es wird auch empfohlen preiswerten Haarspray zum Fixieren zu nutzen) hab ich eine Schicht weißen Bastelleim über alles aufgetragen und mit dem Heißluftföhn getrocknet.
Dies ergab ein prima glänzendes Finish und es ist ein wenig wie Krakeliermedium - aber die feinen Krakel sind schlecht zusehen nur im unteren Teil könnt ihr die lustigen aufgeplatzten Stellen sehen - das ist echt cool - ich denke das ist der HEATTOOLEFFEKT - find ich genial!
Die ganze Zeit beim Werkeln hab ich an meinen Lieblings- Heimwerker , meinen lieben Mann gedacht - so ist dieses Tag also nur für ihn .
Ich kritzelte einen hier nicht deutlich sichtbaren Liebesbrief für ihn auf der kleinen MOO - Konstruktion mit weißem Gelpen und setzte damit und mit weisser Kreide auch ein paar Highlights .
Ich weiß, mein Liebling wird glücklich über dieses kleine Geschenk von mir sein .
Er ist einer meiner größten Fans .
Jedesmal, wenn ich ihm ein neues Kunstwerk von mir zeige hör ich : " Das Beste, was du je gemacht hast " lol !