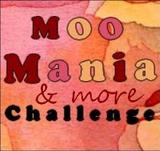 You certainly know MOO MANIA Challenge grows to MORE art! We invite you to join us also with other formats . You can link all sorts of projects like ATCs, Inchies, Tags, Cards, Art Journal Pages and even 3 dimensional artwork according to our themes. We hope to find more art and more fun ! Of course you can share your Moo Art with us further on! The theme runs until: January 28th.
.
I made above MOO - you know a Moo is a very little format
2 , 8 x 7 centimeters, or approximately 1 , 1 x 2 , 8 inches.
And
as MOO MANIA wants to see other projects too - I filled the second page in my
Junk Journal - shown in this previous post relating to the African theme.
meant for
TRY IT ON TUESDAY
- as I used a "new" homemade rhino - stencil on my page above.
Bis zum 28. Januar heisst es bei MOO MANIA - AFRIKA-
Du darfst alle Arten von Projekten zu MOO MANIA verlinken , nicht nur MOO(s)!
garbeitet, und verlinke zu oben angegebenen Events.