James Bond? Mr. Bean? A mix of both ?
I had so much fun with this portrait -
Neocolore II watersouble Crayons, Faber Castell Polychromos Pencils,
Acrylic Paint - all together on Mixed Media Paper.
James Bond?? Mister Bean? Eine Mischung aus den beiden??
Keine Ahnung - es hat auf alle Fälle total Spaß gemacht, dieses Portrait
in Mischtechnik. Verwendet hab ich wasservermalbare Ölpastelle , Polychromos Buntstifte und
Acrylfarben auf Mixed Media Papier .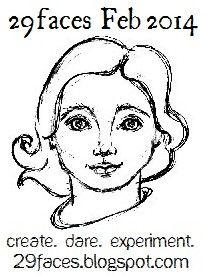 And this dog - face is not only meant for this Challenge but also for
on which I always love to take part