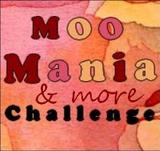 Unfortunately I visited this amazing city just one single time -
but I really fell in love with London.
I made this page in my Journal by using a MOO on it and drawing BIG BEN with a charcoal pencil , I painted it with white acrylic paint - and afterwards I edited it digital.
Das neue Thema auf MOO MANIA & MORE ist London, wo ich leider nur ein einziges Mal war, aber ich hab mich in diese Stadt verliebt - ich hab hier den BIG BEN mit Kohlestift in mein Journal gezeichnet, mit weisser Acrylfarbe bemalt und ein Moo aufgeklebt - zuletzt hab ich die Seite noch digital etwas aufgepeppt.
This is my original page before editing :
das ist die Original -Seite vor der Bearbeitung: