I created my Zodiac Sign in my
JUNK JOURNAL
- I was born under the sign of Scorpio, Moon in Libra. It's meant for
Art Journal Journey Challenge
. I really hope you will join in this month's theme - it's a great fun for all of us - check out what the artists there already came up with !
And what a phenomenal event this
29 Faces Challenge
is -
you can visit a large number of participants - make new blogfriends and you can enjoy magnificent faces!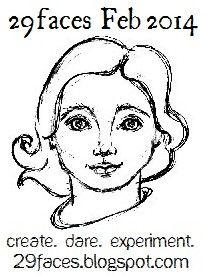 This is just a little experiment in my
JUNK JOURNAL
with an image transfer and Gel Crayons...both works perfectly on the smooth white calender paper pages!
Hier zeige ich ganz oben eine Seite für das Sternzeichenthema( Ich bin Skorpion) bei AJJ in meinem Recycling Journal und darunter eine kleine Spielerei in ebendiesem Journal mit einem Bildtransfer (die Augenpartie) mit Klebstoff und Gel Kreiden - beides funktioniert tadellos auf den glatten weissen Kalenderrückseiten...