We have a new theme awaiting you at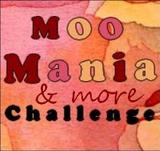 until 25 March 2014 our theme is called:
Please take part - we enjoy your participation!
Hop over to MOO MANIA & MORE to have a look with what the team came up to inspire you this fortnight!
Ein neues Thema gibt's für Euch bei MOO MANIA & MORE
es heisst "KINDHEIT" und wir würden uns riesig freuen Euch wieder alle mit dabei zu haben!
Schaut unbedingt vorbei und macht wieder mit! (läuft bis 25. März 2014)
I painted a little boy for my Art Journal - it was a great fun for me to draw him very loosley with pencil and give him flowers and after spraying a fixative over the drawing ( some artists take a hairspray for this) I was able to color the page with watersoluble Oil Pastel Crayons
( CaranD'Ache- Neocolore2). In the end I stamped some accents with white and black Acrylic Paint.
Ich hab einen kleinen Jungen sehr locker für mein Kunsttagebuch mit Bleistift gezeichnet mit ein paar Blümchen rundum und nachdem ich die Zeichnung mit Fixativ ( manche nehmen auch Haarspray) versiegelt hatte, konnte ich mit den Neocolore 2 wasservermalbaren Kreiden alles gut kolorieren. Hat richtig Spaß gemacht. Zuletzt hab ich mit weisser und schwarzer Acrylfarbe Akzente gestempelt.
since he is a fantasy figure and a kind of abstract he is also meant for
Weil der sehr fantasievoll und abstrakt rüber kommt linke ich ihn auch gleich noch zu
Thank you for visiting me and thank you for all your kind comments !
I appreciate them all!
Danke für Eure lieben Besuche bei mir und die vielen netten Kommentare-
Ich genieße sie alle sehr!