Made up of Acrylics, old bookpages, white gesso , white glue , a die cut house row and a feather stamp from Stampington.
Meant for / gedacht für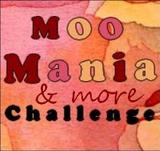 and another , very old ( more than ten years old) photo of mine
for
I did so much papermache as my daughter was in kindergarden and we had also
a Gallery for our papermache art -
if you are interested you can look
and my little Julia also was a very young crafting book author
many of her craft ideas are published in different crafting books for children
I am very proud of her - in the meantime she is 13 years old and
a still creative young lady and very good at school!
My conviction always was and is that
creativity makes our children clever!
she made this "selfie" photo of us with her handy.