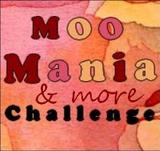 We hope you will join us !
I made a page for this reason on which I put three MOO-sized pieces with handwriting.
Used Gesso, Charcoal Pencil, (Hairspray as a fixative) and two colors (8104 blue and 8101Yellow) Javana Color for painting on silk. Wrote my words and made some scribbles with Indian Ink.
Das neue "freie Thema " bei
MOO MANIA & MORE
läuft bis zum 29.Juli -
mach doch mit!
Es ist alles erlaubt, Du musst auch gar keine Moo(s) arbeiten um dabei zu sein!
Ich habe ein Seite gestaltet auf der ich drei Schilder in MOO - Größe verwendete habe, um mein Sentiment darauf mit Tusche zu schreiben. Ich habe ferner noch Gesso, Kohlestift, Seidenmalfarben von Javana ( 8104Blau und 8101Gelb) und Haarspray als Fixativ verwendet.
Auch gedacht für /
also meant for