Today I want to share with you how to make nice textured paper in a very simple way. The only ingredients you need is tissue paper ( you can find wrapping tissue or silk paper for free in shoeboxes or buy it for little money at the stationar's shop ) and a mesh from a vegetable packaging and some cheap homemade Mod Podge .
Heute möcht ich Euch gern zeigen wie Ihr schnell und einfach Euer persönliches, strukturiertes Papier herstellen könnt. Ihr braucht lediglich Seidenpapier ( gratis in Schuhschachteln oder ihr kauft es für wenig Geld als Blumenseide /Seidenpapier in Papierabteilungen), ein beliebiges Gemüsenetzchen , das ihr von Eurem nächsten Gemüseeinkauf aufhebt und weissen Bastelkleber aus dem Billigladen.
fill the whole bottle of white glue in an empty jar and fill up with half a bottle of water
fülle das Fläschchen weissen Schulkleber in ein leeres Gläschen und ergänze den Kleber mit einer halben Flasche Wasser
Shake your DIY Mod Podge well and you can store this Collageglue / Mod Podge for a very long time.You can use it in all kinds of Collage and also as an acrylic glazing medium it is usable.
Die Mixtur gut schütteln, diesen Kleber kannst Du auch sehr lange aufbewahren und für viele Klebearbeiten verwenden.
Auch als Gel-Glazing Medium für Acrylfarben eignet er sich toll, das macht Acrylfarben transparent und verlängert die Trocknungszeit der Acrylfarbe.
Put your mesh in between two layers of tissue paper- work on a plastic bag or another non sticky surface
Lege das Netzchen zwischen zwei Lagen Seidenpapier-arbeite auf einer Plastikunterlage
Put on a generous layer of your Mod Podge and let dry, best is to let dry by air
Streiche großzügig Deinen Modgepodge darüber und lasse alles gut trocknen - am besten lufttrocknen
What you will geht is a great textured paper , ready to take all sorts of colors and mediums!
Fabulous for collage projects - you can experiment also with colored bleeding tissue and with different colors of meshes .. have fun!
Was Du nun hast ist ein toll strukturiertes Papier, das bereit ist farbig gemacht zu werden mit allen möglichen Farben und Medien. Du kannst es für Collageprojekte in kleinen Stücken verwenden . Du kannst auch mit bunten ausblutenden Seidenpapieren und farbigen Netzen Versuche starten.
I used mine for this project , which I made for the new Challenge over at
Ich hab meines für diese Arbeit verwendet, die ich erstellt habe anläßlich der neuen Challenge bei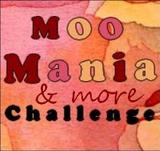 hope to see you there - new fortnight theme is :
Recyle something!
Hoffentlich seh ich Dich dort - das neue Thema für die nächsten 14 Tage heisst :

Recyle etwas!
I used a card which I have made some times ago with teabags as my focal point . I also used coffee-ground, the textured vegetable mesh and mesh paper and some corrugated paper ( inserts for confectio
ne
ry an
d biscuits)
, acrylics and white gesso - as a glue I took white glue. The piece is glued on cerealbox-cardboard.
Im Blickpunkt ist hier eine Karte, die ich schon vor längeer Zeit mit gebrauchten Teebeuteln gestaltet hatte, ich hab weiters Kaffeesatz, das texturierte Gemüsenetz-Papier und feines Wellpapier (beigepackt in Konfektschachteln und Keksverpackungen ) neben Acrylfarben und weißem Gesso verwendet -
aufgeklebt mit weissen Schulkleber auf dem Karton einer Lebensmittelverpackung.