As you certainly know
MOO MANIA & MORE
Challenge accepts all other formats and even three-dimensional artwork beside the MOO size as long as it matches
the
respective themes. From time to time I like to play with the MOO format ... a kind of personal challenge for me. It's a great way to explore composition ! This cards are made with selfpainted papers ... and I had so much fun by creating them!
Wie Du sicher weißt kannst Du bei MOO MANIA & MORE Challenge mit allen Formaten und auch dreidimesionalen Werken teilnehmen, sofern sie zum jeweiligen Thema passen. Ich spiele gern von Zeit zu Zeit mit dem Moo Format - es ist eine Art persönliche Herausforderung an mich- man lernt so viel über Komposition, wenn man dieses Format gut zu kombinieren versucht! Diese Karten hab ich mit selbstbemalten Papieren gestaltet - ich hatte enormen Spaß dabei!
Our new theme at MOO MANIA & MORE for the next two weeks is called
Und unser neues Thema für die nächsten zwei Wochen bei MOO MANIA & MORE Challenge heißt
special therefore I made this below card out of an older painting exercise in acryl.
speziell dafür hab ich diese untere Karte aus einer älteren Acrylübungsarbeit gestaltet.
And a "Hello" to Manu and all the participiants of

Thank you for stopping by and I hope to meet you at
Danke für Deinen Besuch und vielleicht treffen wir uns ja bei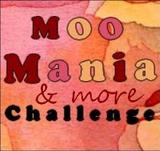 I also link my pieces to the great challenge at OCC : SUMMERTIME !
And I can't stop with Frida - completely addicted to the theme I played with one of my drawings in PhotoFiltre StudioX again and came up with this collage for
ART - JOURNAL - JOURNEY
Thank you for visiting froebelsternchen
♥♥♥