This spread is meant for
Living Beings / Lebewesen at
and
"Music Is In The Air "
at MOO MANIA & MORE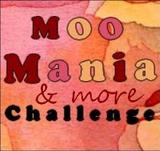 I would be very glad to meet you at one of the two parties -
or even better at both of them!
Eine Doppelseite ist hier entstanden, die für die beiden oben genannten Challenges gedacht ist.
Es wäre ganz toll Dich (wieder) dort zu treffen! Am besten bei beiden Events! Wir freuen uns riesig über jeden einzelnen Beitrag von Euch!
♥♥♥
Be Creative!
/ Sei kreativ!