As I saw
Carolyn Dube's idea
I decided to give this a try and put some of my art on a Kleenex box too. And came up with this -
Begeistert von Carolyn Dube's Idee hab ich beschlossen auch ein bisschen froebelsternchen Kunst auf eine Kleenex Box zu tun
.
This is the front of the box when open / Vorderseite der geöffneten Box
I made a present for froebelsternchen / Ich hab froebelsternchen damit beschenkt!
froebelsternchen loves Moo(s) as you know and so I put some Moo(s) on the gift -
froebelsternchen liebt Moo's wie Du vielleicht weisst und deshalb hab ich ein paar Moo(s) als Geschenkanhänger beigepackt.
And because I really like froebelsternchen I decided to make something special for her on the back of the box, so maybe froebelsternchen can hang it on her wall if she likes when the box is empty....
Und weil ich froebelsternchen wirklich gerne mag, hab ich beschlossen etwas Spezielles für sie auf der Rückseite zu malen, vielleicht mag sie die leere Box ja möglicherweise an die Wand hängen....
As she likes birds - you know I came up with this birdie on the back of the box.
Weil sie Vögel liebt , wie Du vielleicht weisst, hab ich dieses Vögelchen für sie auf der Rückseite gemalt.
And the whole project I dedicate to
Gewidmet ist dieses Projekt der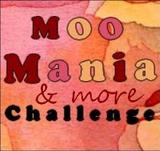 And as there is a birdie on the backside -