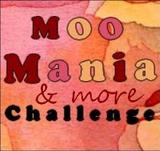 There is still time to enter the Favourite Colors Challenge over at
We would love to see your favourite colors on your projects there.
I love the most of the colors and so it is a bit difficult for me to fix my absolute favourites but greens and blues in soft shades are definitely what I love for sure.
Es ist noch Zeit genug um bei der

MOO MANIA & MORE

Challenge zum Thema Lieblingsfarben dabei zu sein. Es wäre super Dich wieder mit dabei zu haben. Da ich eigentlich alle Farben liebe, ist es immer wieder schwer mich festzulegen, aber Blau und Grün in sanften Schattierungen gehören definiv zu meinen Lieblingen.