We are each of us angels with only one wing, and we can only fly by embracing each another.
Luciano De Crescenzo
Wir sind alle Engel mit nur einem Flügel.
Um fliegen zu können,
müssen wir einander umarmen.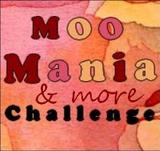 She wants us to show something the second time.
I scrolled down my posts and searched for February the second in 2014, thought that would be nice if I would find exactley something done one year ago, and found
Und hier drüber hab ich noch eine ältere Arbeit, die ich gern zeigen möchte
- genau vom 2. Februar vor einem Jahr - für:
" Den zweiten Blick"