This page is one single disaster and changed completely from what I wanted, but the more I look at it the more I like it. /
Diese Seite war ein richtiges Desaster in seiner Entstehung, sie wollte einfach nicht so wie ich wollte, aber umso öfter ich sie betrachte, umso besser gefällt sie mir eigentlich.
It's a page meant for our POULTRY - theme over at
Eine Seite gedacht für "Federvieh", das neue Thema bei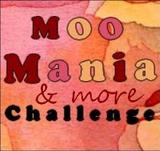 and "Things with wings"
und "Dinge mit Flügeln"