We have a new theme over at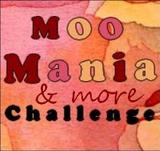 which is POULTRY
I came up with a spread in one of my journals . I used watercolor printed on with selfmade styrofoamstamps in the background and used an outcut of a magazine.
The sentiment is written with an Artist Pitt Pen black marker. All lines and a bit of definition were made with watersoluble crayons.
I made some stamps out of styrofoamplates ( meat- and veggiepackages)
cool with watercolors as well as with acrylics to use.
ALSO LINKED TO
(sorry no workdesk included this time - I just work on my kitchen table and have always everything to clear up when my family wants to eat)

Für das neue Thema bei MMM hab ich diese Doppelseite kreiert mit
einem Hintergrund aus Wasserfarbe aufgedruckt mit selbstgemachten Stempeln aus Styroporverpackungen (siehe oben),
einem Magazinbildchen und wasservermalbaren Kreiden für Linien, Umrandung und etwas Definierung der Styroporstempelabdrücke.Mit einem Artist Pitt Pen in Schwarz wurde der Spruch geschrieben:
Das Leben ist das , was du daraus machst . So war es immer. So wird es immer sein.
bedeutet der Spruch von Grandma Moses