Grandmother's first love was killed in World War II.
She told me that she was very, very unhappy as this happened and later I think she
was not really happy with my grandfather. I remember that I have fallen in love with the photo of him (his name was Ernst) as I was a little girl - I often looked at it.

Oma's erste Liebe fiel im 2. Weltkrieg und sie erzählte mir, dass sie sehr unglücklich war, als es passierte . I glaub sie war später mit meinem Opa auch nicht wirklich glücklich. Ich erinnere mich, dass ich mich damals in das Bild ihres gefallenen Verlobten - er hieß Ernst - verliebt hab und es oft betrachtete.
As I found it recently I made a copy to play with it.
Als es mir kürzlich in die Hände fiel, hab ich es kopiert um damit ein wenig herumzuspielen.
I used two MOOs for his legs.
Ich habe zwei MOO(s) für seine Beine verwendet.
This collage is the result of my playtime with the image.
Diese Collage entstand bei meiner Spielerei.

MASCULINE / FEMININE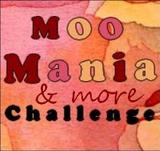 ANYTHING GOES