For
AJJ
.......FEMININE - MASCULINE I have another feminine page today.
Für unser Feminin-Maskulin Thema bei AJJ hab ich wieder eine feminine Seite heute.
watercolor, acrylics, charcoal, pentel brush pen on watercolor paper
our new theme there is an
ANYTHING GOES
one! So we hope to see you with -whatever you like to show -over at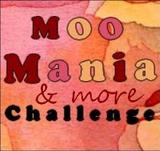 Birdie holds a Moo in his beak
***
freies Thema für Euch! Ich hab ein Tag mit Moo gemacht.