A portait with different charcoal pencils on a monoprinted paper.
I gave her a little flower for her hair - sewn on with the sewing machine - it is painted bubble wrap and a piece of printed tissue.
Ein Portrait mit verschiedenen Kohlestiften auf einem Monoprint -Druck. Ich hab ihr eine kleine Blume aus bemalter Luftpolsterfolie und einem Stückchen bedrucktem Seidenpapier auf's Haar genäht.

(No.39)

and for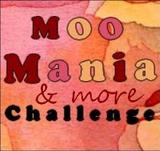 where we have AUTUMN MOOD as our theme currently.
auch gedacht für HERBSTIMMUNG bei MM&M.
Next I found a page from 2013 recently and thought I can have a little digital playing to practise my digital work and came up with this. /
Ich hab eine Seite aus 2013 gefunden und dachte ich könnte damit ein wenig digital rumspielen um meine Kenntnisse zu verbessern und das hier entstand.
Always good to practise - I do it not often enough I fear .
Es ist immer gut zu üben - leider übe ich viel zu wenig mit den digitalen Programmen.
This was my original page / das war meine Original-Seite