A spread in my newest Altered Book - it's a hardcover youth-book my daughter don't need anymore with very rough and thick paper... but super when gessoed.
The face was painted with gesso and Stabilo Mark it All pencil - and I cut out a square and glued it on the background.
The leaves were cut out from the not so well succeeded prints I made recently with the fun foam print plate (
shown here
) and other unsuccessful monoprints and they were glued on.
I decided to give a last layer of random marks and lines with white acrylic applied with a credit card just for some interesting effects.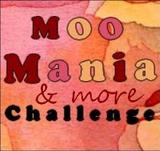 CROWNS

INSPIRED BY AUTUMN COLOURS