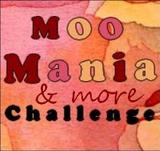 We have a new theme over at
MMM
.
is the new challenge theme for the next two weeks. All our Challenges are an "anything goes" medium. As long as you stay within the challenge theme you can make a card, moo-card, altered project, ATC, scrapbook- or art journaling page, tag or anything your heart desires. We are looking forward to seeing your entries!
We hope to see you at the challenge!
We are each of us angels with only one wing, and we can only fly by embracing one another.
Thank you for stopping by and visiting me here at froebelsternchen ~
it is always so nice when you do.