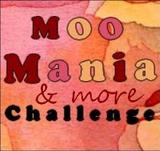 I show you the backside cover of the current Altered Book today.
Again it's meant for my two favourite Challenges out in blogland .
Winter Wonderland
is our theme at
AJJ
- there are still three days more to take part in the linkparty.
all started with a gessoed - recycled book cover and some scraps
I wish you a wonderful day!
Thanks a lot for your continued visits and comments. I really appreciate your support for my blog!


Have a look at the finished Altered Book here: