Today I want to share a Mixed Media spread in one of my journals with you.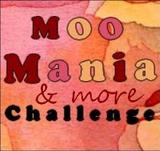 I used some newspaper scraps for my spread.
From time to time I make collage papers from newspaper..
I love that this newsprints are so thin -
great for collaging ....

when you have left over paint next time maybe you think of this idea
and use it for making nice collage paper out of newspaper!
also meant for our current theme at

which is:
I really hope to see you at the challenges!
Always great to see your art there!